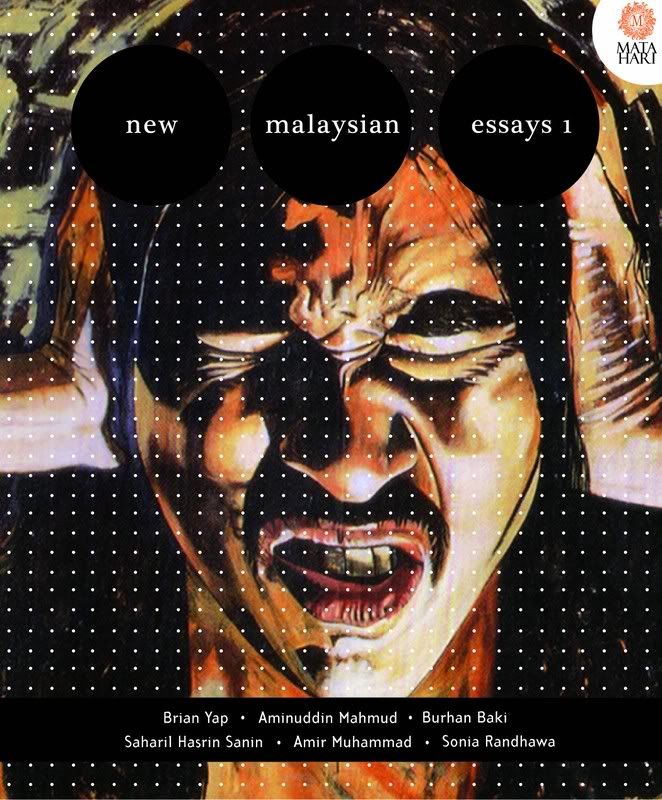 Amir Muhammad's latest book, New Malaysian Essays 1, is now available for pre-orders.
You can pre-order New Malaysian Essays 1 for RM30 each, which is RM6 less than the bookstore price. The price includes shipping anywhere within Malaysia. If you are outside Malaysia, kindly make friends with a Malaysian resident who can then post it to you.

You can send the money to my Maybank account: 014105120512. Once you have done so, send me an email at matahari.books@gmail.com to let me know your address. If you'd like an autograph, let me know to whom it should be addressed

Closing date is Thursday, Feb 14. The books will be posted on Feb 15.
Book info:
Synopsis:
New Malaysian Essays 1 is the first of a planned annual series concentrating on local non-fiction writing. From polemic to ode to memoir, this series invites Malaysian readers – and writers – to notice, analyse and interpret the living, throbbing, squelching vitality around them. Multi-disciplinary, multi-tasking and best appreciated on multi-vitamins, this first collection takes us from Brian Yap's election-era critique to Amir Muhammad's alternative lexicon by way of Burhan Baki's elegant deconstructions, Aminuddin Mahmud's seminar on branding and Saharil Hasnin Sanin's knockabout ruminations on language before rounding off with Sonia Randhawa's stirring call for national (and therefore personal) self-realisation.

Writers: Brian Yap, Aminuddin Mahmud, Burhan Baki, Saharil Hasrin Sanin, Amir Muhammad & Sonia Randhawa
Length: 256 pages.
Size: 21cm (height) and 17.9cm (width)
Language: English (80%) and Malay (20%).
Published by Matahari Books
Design & Layout by Bright Lights at Midnight
Printed by ?
Retail price: RM36
ISBN: 987-983-43596-1-4
National Library Catalogue-in-Publication
Launch date: 16 February 2008 (8pm; Central Market Annexe, top floor)
This book won't be available in most Malaysian bookstores and the print run has been reduced to 1,000. The original distributor backed out due to "the Datuk's orders" because of 'the vulgar words' and being 'politically sensitive'. Excerpts and more info are on Amir's blog.